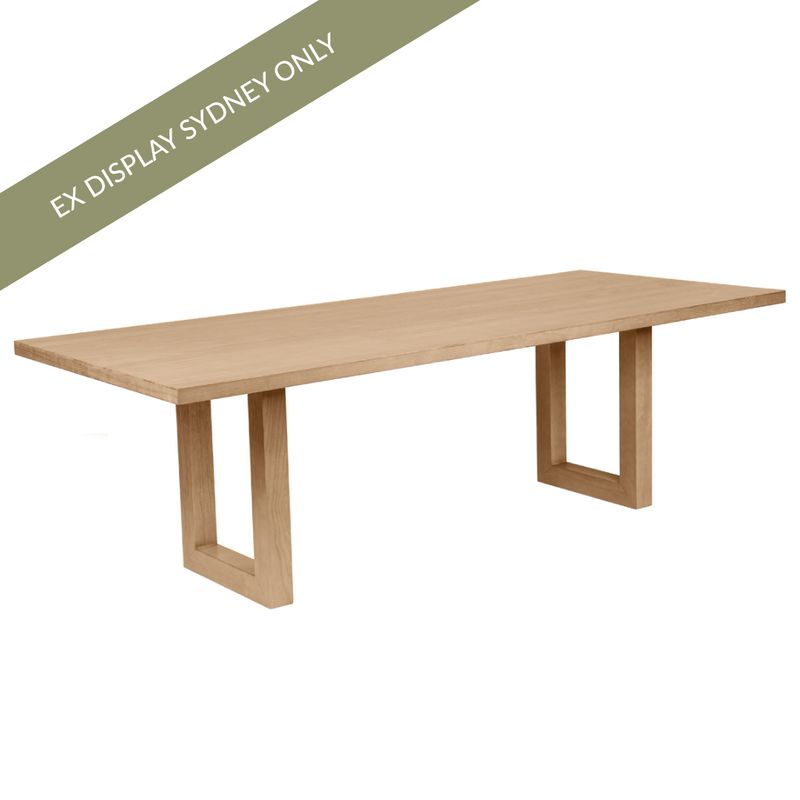 Leeton Dining Table - 2m Natural
B32403
Stock Level:
Available Now
Login / Create Account
ON SALE until midnight 30th June 2022
Description
Offer a contemporary and refined look to your dining room with the Leeton Dining Table. Sophisticated in design with open square cut legs and a 4cm table top in painted oak wood solid timber. Perfectly complimented in finish to the Cape Byron Stool in natural. This dining table invites joyous memories at meal times designed to comfortably seat 6-8 people.
Specifications
Details
Dimensions A:

Item Dimensions: 200cm W x 100cm D x 76cm H

Dimensions B:

Seating Capacity: 6-8

Dimensions C:

Floor to underside of table: 72cm

ProdInfo A:

Wood is a natural material that is vulnerable to scratches, chips and other damage and therefore extra care should be taken during handling.

ProdInfo B:

Timber furniture requires regular dusting and cleaning with a slightly damp cloth. Any contact with water should be dried immediately after cleaning.

Prod info C:

Cracking and checking of timber is a very natural side effect in trying to reach a natural equilibrium with its environment and may occur as wood shrinks and dries.

Warranty:

1 Year Warranty
Care Instructions: Wipe down regularly using damp cloth.Dry thoroughly
Downloads
Share