Home

>

covid-19-business-information
---


WE ARE STILL HERE FOR YOU
COVID-19 UPDATE
Updated at 10am Friday 13th August, 2021
In light of the current COVID-19 restrictions in place in New South Wales,
the CL&L team are taking the following measures to ensure the safety and health of our staff, community, customer and visitors...



CL&L HEAD OFFICE - RESTRICTED ACCESS


The CL&L office will remain open for limited staff members only.
Our customer service team are still here for you and will continue to assist you in your orders,
enquiries, deliveries and claims.


Please continue to send all enquiries to:
sales@cafelightingandliving.com.au, claims@cafelightingandliving.com.au
+ hello@cafelightingandliving.com.au
CL&L WAREHOUSE - RESTRICTED ACCESS

The CL&L Sydney Warehouse remains open for curbside pick up to Commercial freight companies and delivery drivers ONLY.
Interstate orders will still be shipped across Australia during this time but freight delays may occur.

We ask for your patience, CL&L cannot be responsible for third party freight delays during this time.
CL&L SYDNEY SHOWROOM - CLOSED

The Sydney Showroom is currently closed until further notice




CL&L SYDNEY CLEARANCE OUTLET - CLOSED UNTIL FURTHER NOTICE




CL&L MELBOURNE SHOWROOM - OPEN FOR BUSINESS

Our conveniently located Southbank Showroom is Open by Appointment - to book please contact CL&L Showroom Account
Manager Dani on 0405 464 545 or send an email to dani.l@cafelightingandliving.com.au
CL&L SYDNEY OUTLET SALE - POSTPONED
CL&L is proudly COVID-SAFE and is commited to the safety and health of our community.
All CL&L Events have been postponed with new dates to be announced in the near future.
We appreciate your co-operation during this time and hope to see you all again soon! Remain safe xox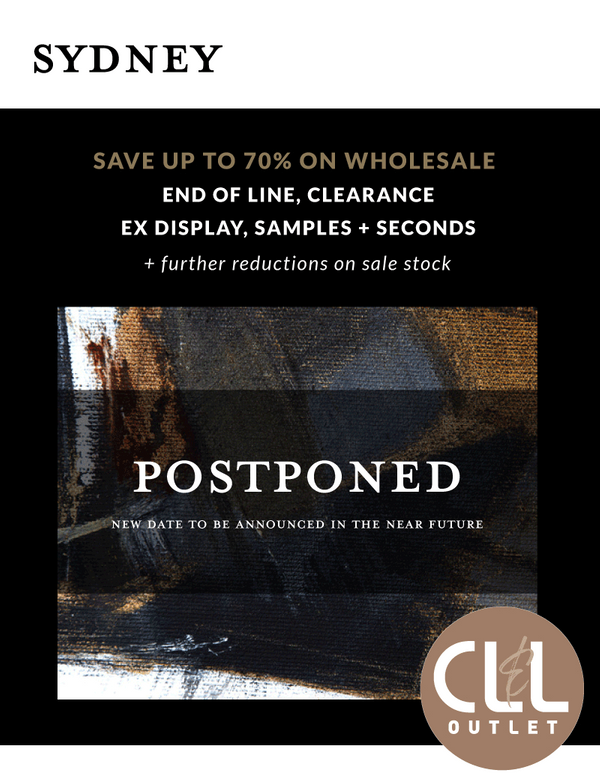 ---
Proudly Registered CovidSAFE

The health and well-being of our team, members and customers is of
paramount importance to us
___________________________

Coronavirus (COVID-19) is a highly contagious virus, therefore it is important that we take measures to mitigate the spread and ensure the safety of our communities.
The following summarises the steps we are taking in response to the challenge of the Coronavirus in our Showrooms, Warehouse & Outlet. We are doing all that is possible to provide a clean and safe environment for our team, onsite visitors and customers.


We require all of our team, onsite visitors and customers to not enter our business and stay home if:


they have been in contact with a COVID-19 infected person or someone who is waiting on test results
if person/s have been overseas or Victoria in the last two weeks. Travelled to any high-risk areas that are in lockdown or advised to isolate due to visiting high risk locations will be asked not to attend our business for 14 days
has any of the known symptoms, such as sore throat, cough, temperature, fever or shortness of breath
Temperature check results in over 37.5 degrees or higher.

We will ask all team members and customers on entering our business to:


sanitise their hands
have their temperature taken
sign in using our COVID-19 safe QR code
follow all COVID-19 safety recommendations of social distancing of 1.5metres


Our Staff members will be adhering to the safety of their work environment by:

We have instated a Covid-Marshall who will be monitoring our Covid-Safe plan, terms and conditions.
Our Marshall will also monitor NSW Health recommendations and put in place measures to ensure the safety of our staff, onsite visitors and customers.


Hand sanitiser will be available throughout our business and all bathrooms will be stocked with disinfectant hand wash/soap.
Our team will wash hands and sanitise common areas, equipment, and digital devices regularly.
Signs will be put up advising physical distance requirements and norms of conduct.
In our office, all door handles, phones, reception desks, water filters and common areas will be wiped with disinfectant and sanitisers regularly throughout the day.
Warehouse drivers are to wear a mask when loading trucks to external drivers.
We look forward to continuing to provide our customers with great service and excellent outcomes in the weeks and months ahead.