Home

>

Interior Styling With Blue Statement Pieces
Interior Styling With Blue Statement Pieces

A calming and dependable colour you can rely on, blue hues are trending in 2020. Blue is known to unite classic design genres from Chinoiserie to Hamptons. Awarded as Pantone Colour of the year, our designers make the timeless choice when sourcing fabrics, furnishings and home decor. When decorating with blue you can be sure
CL&L have you covered with a collection of blue products to suit.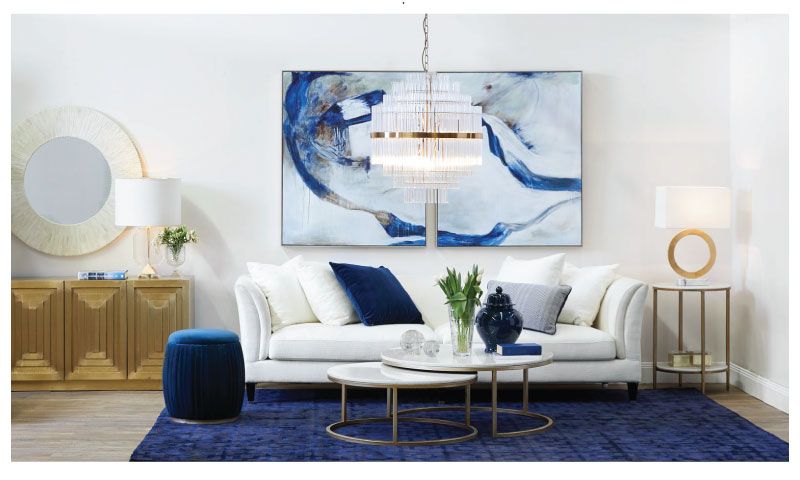 Image from our 2019 CL&L Mayfair Collection



When styling a strong focal point is key in any room. Whether using paint or furnishings, blue draws in the eye, bringing attention to it's calming qualities.
Take our Mayfair Collection - a look that is refined, elegant and fresh using quality finishes of marble, crystal, linen, bone and brass with pops from the blue colour palette. The use of brass and gold transforms the ordinarily serene colour into a regal, timeless hue.


One way to incorporate this trend and guarantee it won't go out of style is to
choose the classic navy colour palette
Broadway Photo courtesy of The Property Stylist featuring CL&L Broadway Headboard and Brentwood Bedside Table


Just a pop of duck egg blue or soft blue here and there goes a long way in
terms of creating a nautical concept, commonly found in a Hamptons style home.



JOIN OUR MAILING LIST:
If you haven't already, why don't you join our mailing list? You'll be the first to get the scoop on new items, subscriber sales and recieve top industry tips, tricks, inspo and insights first hand.
Simply fill in your name and email details below - it's that easy!
VISIT OUR YOUTUBE CHANNEL:
VIEW OUR RECENT COLLECTIONS: